Huck, Could you post a thread about the passing of Mike Dormer, the creator of the Hot Curl statue that was installed at Windansea, in the early sixtys. Mike was a talented artist, and cartoonist. I met him in 1960, when I was shaping for Velzy. Mike did a pastel chalk fish on the deck of a board Del Cannon had shaped for Carl Knox, a friend of his. That board is now at SHF in San Clemente. Another member of the old guard has slipped away from us. Just thought people would like to know how rapidly the men who were the unwitting founders of surf culture are disappearing.
----
http://macmedadestruction.com/la-jolla-hot-curl-windansea-icon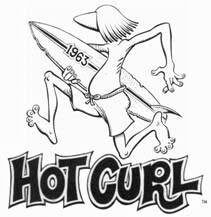 Michael Dormer From Wikipedia: 
 
Michael Dormer or Michael Henry Dashwood Dormer(born 1935 in Hollywood, California, U.S.) is an American artist, cartoonist, writer, songwriter, entrepreneur, and creator of famed cartoon personalities Hot Curl and 1960s' TV star Shrimpenstein.
A childhood protégé of artist Louis Geddes, Dormer won national recognition at age 12 by taking first prize in a National Fire Prevention poster contest. At 18, Dormer was working as a freelance illustrator and cartoonist for local and national periodicals and creating experimental works of art.
In 1957 Dormer established a painting studio in La Jolla and moonlighted as a part-time night club comic and jazz poet at the Pour House, a cabaret in Bird Rock. He also published an art and poetry magazine, titled Scavenger.
In 1963, Dormer and his friend, Lee Teacher, sculpted Hot Curl,[1] a 400-pound (180 kg) concrete statue, and installed it on the rocks near the surf shack at Windansea Beach in La Jolla in San Diego, California. The sculpture of a mop-haired, 6-foot-tall (1.8 m), knobby-kneed surfer gazed out at the sea with a beer in his hand. The pot-bellied surf god quickly became a nationwide sensation, appearing in SurfToons comics and as a plastic model kit, selling hundreds of thousands of copies. Today, Hot Curl appears regularly in Surfer magazine.
In 1964, Dormer's artwork was featured in the opening credits of Muscle Beach Party, which featured the first film appearance of Hot Curl[2] and "Little" Stevie Wonder. He also doubled as a talent scout for that film and subsequent surf films, recruiting actual surfers and surfer girls off the beaches of La Jolla to serve as extras.[3]
Short Stories, 1981, aluminum and plasticIn 1967 Dormer and Teacher created and launched Shrimpenstein, an off-beat children's television show which aired live weekdays on Channel 9 in Los Angeles. The program, which featured a miniature Frankenstein monster, created when his creator, Dr. Von Schtick, accidentally dropped a bag of jelly beans in his monster machine. The wacky adventures and double entendres of the little monster and his eccentric pals enchanted children of all ages, including Frank Sinatra and his Rat Pack.
In 1968, Dormer painted his first aluminum piece. Over the next 20 years, he continued to create sculptural paintings.
Dormer lived in Ocean Beach in San Diego, California.
Michael Dormer passed away at home in Ocean Beach, San Diego, California on the evening of September 10th at 20:08 PST 2012.